Ranger Rick's Scuba Adventure has been training people just like you to be the best scuba divers in the world!
Diving can lead to adventures in exotic tropical locales and an exciting lifetime profession anywhere in the world. Choosing Ranger Rick's Scuba Adventure and NAUI training means you're only satisfied with the very best. We have the highest training standards in the diving industry and NAUI divers enjoy a worldwide reputation for being accomplished underwater explorers where each breath turns a new page in a journey into the unknown.
Scuba diving is the ultimate role playing activity where you live each moment and venture into places where no one else has been before. Experience weightlessness like an astronaut orbiting the Earth. Breathe underwater while suspended in a cool, refreshing, aquatic world. See strange exotic fishes and shipwrecks of the deep like only other divers do.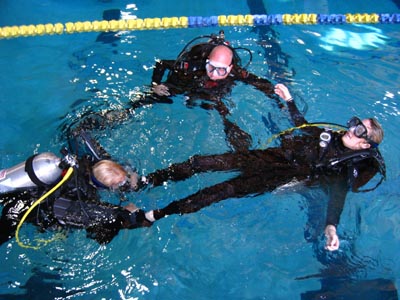 Diver Courses
Choose from a variety of NAUI courses developed for different skill sets: Beginners – Expereinced -Master Divers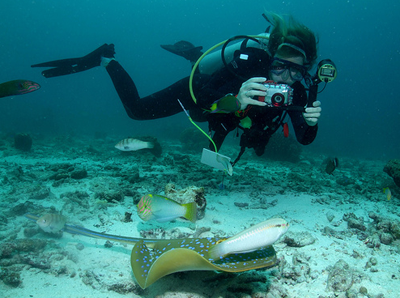 Specialty Courses
Venture out of the norm and learn how to do underwater photography, search and rescue, enjoy deep dives, and many more.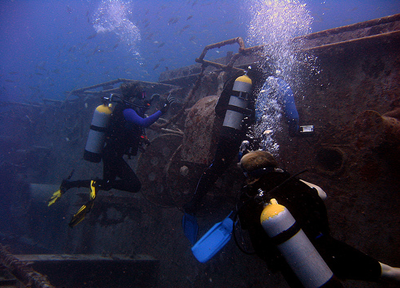 A refresher course is designed for certified divers that have been out of the water for 12+ months or more.    
See What Our Divers Are Saying
I got open water certified with Ranger Rick Scuba Adventure in April 2009....and still dive with him and his crew to this day. Ranger Rick and staff are very... read more knowledgeable, patient and dedicated to their students. If you're interested in getting certified to dive, look no further. Ranger Rick offers very flexible class times.

If you're a certified diver traveling to the area, Ranger Rick offers trips around the state every weekend! Whether it's the ocean, grotto or springs. My boyfriend and I just went on a spearfishing and lobstering trip with him a few weeks ago. (Which he also offers classes for!)

You can't go wrong with Ranger Rick! 🙂

FlaDiveGirl


9/04/2011

I researched nearly 20 dive shops before choosing Ranger Rick's for my wife and I's open water dive certification. Ranger Rick's had a great offer for the open water certification... read more course, and they really took the time to go over all of the little details with me, which other dive shops forgot to mention. There were no hidden fees of any kind, and he was very up front about everything. The training was great! Very informative, and Rick and his team go above an beyond to make sure you know the "facts" when diving. I regularly call them now, just for information, questions, etc. and they always take the time to make sure my questions are answered. I also purchased equipment from Rick (as well as from other local shops)... I should have stuck with Rick to begin with...Truly awesome experience. In some cases, we were even able to "try before we bought" which was really great, as comfort is definitely an import an factor when choosing gear, and it's difficult to know what to chose when you are a beginner.

Anyway, all in all a great experience, and I will be continuing to go with Rick for my future scuba needs.

JustinTPerry


8/20/2013

Great dive with Dave Ross at Blu Heron Bridge. My wife and I had not been on a dive trip in a couple of years and Dave helped us gain... read more our confidence again. I can't say enough good things about Dave and his level of professionalism.
The only reason I didn't rate a 5 star rating was for the price, this I felt was a bit excessive. I get it, a 3 hour drive to get there with awesome dive stories, but I still think it was a bit high.
I want to reiterate that I think Dave Ross did an awesome job and if you need to knock the rust off, he is the right guy to do that for you.

ronniec157


5/20/2017

Ranger Rick's is THE place to go for scuba certs/dives in Florida. I recently got my Open Water dives cert and will most definitely be back for additional training. Dave,... read more Karl, and Rick are real pros, know what they're doing, but are also incredible and patient instructors. I was apprehensive about my abilities and comfort level with something like scuba diving, but the instructors created such an enjoyable environment to learn in. They were on point and super efficient, but were also sensitive to others who needed more time/additional training in certain areas. I wouldn't go anywhere else!

Emily J


7/19/2015

Just had a Fabulous experience with Ranger Rick and Todd! I am PADI certified, but it's been awhile since my last dive. I had lost my confidence and... read more a refresher I took earlier this week at a different shop in another state was disasterous. The J.W. Marriott recommended Ranger Rick and they were right! What a fantastic course. Far exceeded my expectations. Both Rick and Todd were very clear in their instruction, supportive in my learning, and methodical in their training. They were focused on my success. I went from being anxious and wondering if I would ever dive again to being fully comfortable and confident in my ability after attending their refresher course. They explained and reviewed skills in a memorable and motivating way, checked in on my understanding, watched me practice and coached me on ways to improve. Great experience!

D M


12/28/2012

I have dived with Ranger Rick a few times now and have loved every dive. He and his staff help you all the way and nothing is a problem. I... read more am a qualified diver and when on holidays in Florida I always dive with Rick there is no one better or as well organised and he goes out of his way to arrange everything for you.
The best thing in Florida is the weather you are less likely to have a dive cancelled as opposed to here in the uk the weather is a major factor. I have done specialty dives with Rick and my CPR training as in the uk there was never enough people interested so it was proving difficult to get a course that was running so if you want great dives with a professional team then choose Rick he is safety conscious and all equipment is in excellent condition and well maintained. The course fees are also less than in the uk and quicker to achieve time wise. Being based in the YMCA just off International Drive makes it very accessible even on the bus.
I felt very safe in the water and I have never met a more enthusiastic instructor who is full of praise for the students and encourages you to continue in your qualifications and it has been a great factor for me progressing to my Dive Master which I will complete in the next week and I am only 19 so thanks to Rick and I am really looking forward to my tech dives in the summer of 2012.

silvershadows


4/03/2012
Meet our Instructors
Our scuba diving instructors at Ranger Rick's Scuba Adventure are dedicated to the motto of "Dive Safety Through Education"; a person whom others look to for leadership and knowledge. NAUI has always been and remains today the most prestigious agency focusing on diving instruction. They share the adventure and help create it! They believe their work should be enjoyable and exciting, and are eager to share their knowledge with others.