Ranger Rick's Scuba Adventure has been training people just like you to be the best scuba divers in the world!
Diving can lead to adventures in exotic tropical locales and an exciting lifetime profession anywhere in the world. Choosing Ranger Rick's Scuba Adventure and NAUI training means you're only satisfied with the very best. We have the highest training standards in the diving industry and NAUI divers enjoy a worldwide reputation for being accomplished underwater explorers where each breath turns a new page in a journey into the unknown.
Scuba diving is the ultimate role playing activity where you live each moment and venture into places where no one else has been before. Experience weightlessness like an astronaut orbiting the Earth. Breathe underwater while suspended in a cool, refreshing, aquatic world. See strange exotic fishes and shipwrecks of the deep like only other divers do.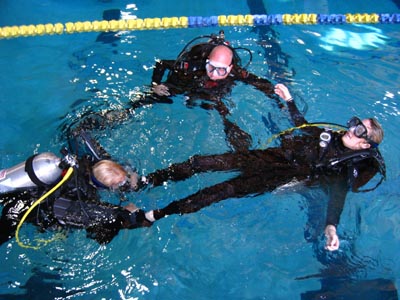 Diver Courses
Choose from a variety of NAUI courses developed for different skill sets: Beginners – Expereinced -Master Divers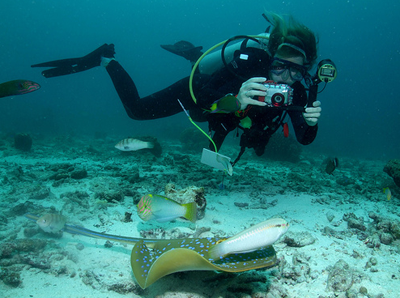 Specialty Courses
Venture out of the norm and learn how to do underwater photography, search and rescue, enjoy deep dives, and many more.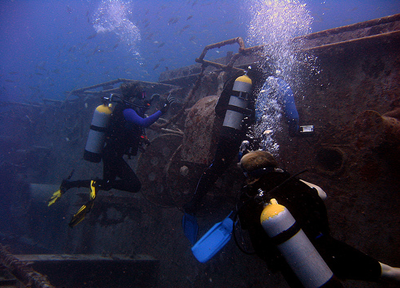 A refresher course is designed for certified divers that have been out of the water for 12+ months or more.    
See What Our Divers Are Saying
Great dive with Dave Ross at Blu Heron Bridge. My wife and I had not been on a dive trip in a couple of years and Dave helped us gain... read more our confidence again. I can't say enough good things about Dave and his level of professionalism.
The only reason I didn't rate a 5 star rating was for the price, this I felt was a bit excessive. I get it, a 3 hour drive to get there with awesome dive stories, but I still think it was a bit high.
I want to reiterate that I think Dave Ross did an awesome job and if you need to knock the rust off, he is the right guy to do that for you.

ronniec157


5/20/2017

I researched nearly 20 dive shops before choosing Ranger Rick's for my wife and I's open water dive certification. Ranger Rick's had a great offer for the open water certification... read more course, and they really took the time to go over all of the little details with me, which other dive shops forgot to mention. There were no hidden fees of any kind, and he was very up front about everything. The training was great! Very informative, and Rick and his team go above an beyond to make sure you know the "facts" when diving. I regularly call them now, just for information, questions, etc. and they always take the time to make sure my questions are answered. I also purchased equipment from Rick (as well as from other local shops)... I should have stuck with Rick to begin with...Truly awesome experience. In some cases, we were even able to "try before we bought" which was really great, as comfort is definitely an import an factor when choosing gear, and it's difficult to know what to chose when you are a beginner.

Anyway, all in all a great experience, and I will be continuing to go with Rick for my future scuba needs.

JustinTPerry


8/20/2013

Certified on may 2010 at the international Dr YMCA great set up and practice pool is just great at 17ft i was very impress, everything went smooth including the... read more weekend check out dives in great locations i also have rented equipment from him easy in and out perfect, i just book the 2012 July bonaire trip with Ranger im sure it will be a great experience. So go for it ...

Junit0


5/13/2012

I have dived with Ranger Rick a few times now and have loved every dive. He and his staff help you all the way and nothing is a problem. I... read more am a qualified diver and when on holidays in Florida I always dive with Rick there is no one better or as well organised and he goes out of his way to arrange everything for you.
The best thing in Florida is the weather you are less likely to have a dive cancelled as opposed to here in the uk the weather is a major factor. I have done specialty dives with Rick and my CPR training as in the uk there was never enough people interested so it was proving difficult to get a course that was running so if you want great dives with a professional team then choose Rick he is safety conscious and all equipment is in excellent condition and well maintained. The course fees are also less than in the uk and quicker to achieve time wise. Being based in the YMCA just off International Drive makes it very accessible even on the bus.
I felt very safe in the water and I have never met a more enthusiastic instructor who is full of praise for the students and encourages you to continue in your qualifications and it has been a great factor for me progressing to my Dive Master which I will complete in the next week and I am only 19 so thanks to Rick and I am really looking forward to my tech dives in the summer of 2012.

silvershadows


4/03/2012

I first contacted Ranger Rick in early 2010 as I was having a family holiday in Florida (May 2010) and had a general interest in getting an open water diving... read more certification. He was only 2 of about 10 diving centre that actually bothered to reply to my emails. He replied with a full price list and general schedule for classroom lessons, pool training and open water dives.

The training/classroom teaching was done onsite at the YMCA centre on international drive Orlando. Its right next to all the attractions and shops (and just off Highway 4 for those further a field). We spent a good amount of time in the classroom and he made sure we knew and understood everything about decompression, dive tables and safety stops long before we even touched the water! The YMCA has an Olympic depth diving pool which was roped off for us to train in. On the whole I was impressed with how thorough and patient the 2 main trainers were (Rick + Dave), especially with me!

I gained my NAUI (similar to PADI) open water cert after 4 evening sessions (about 3 hours each) and 2 full days out diving. We dove in a cave spring in North Florida and the following day down at Blue Herron Beach in North Miami. Fantastic experience. So much so I went back to Florida in Sept 2010 with a friend and we both did our Advanced Open Water and EANx courses with Ranger Rick. The EANx course was actually conducted in a larger classroom over at the University of Central Florida with a lot more students.

There are a fair few Diving outfits around central Florida, but I'm very glad I ended up with this one.

simoncchapman


8/12/2011

I got certified with Rick in 2013. That in itself was a great experience. Good price, comfortable classes, amazing flexibility with my crazy work schedule. I was... read more scared out of my mind, but was determined to get SCUBA certified. Rick was incredibly patient and got me through my hesitation so that I could confidently achieve my open water certification.

Fast forward to 2018. I'm literally sitting on a boat in Australia on my way to the Great Barrier Reef and the dive program suddenly won't accept my certification document because it doesn't have a dive number they can look up. I can't get NAUI on the phone from Australia, so I email Rick at 6pm his time as a last resort and let him know what's happening. Nevermind the fact that his office is closed for the day; within minutes, he finds the number from a certification 5 years ago and emails it back to me. This is so far beyond "excellent customer service" I don't even know how to classify it.

You will not regret going with this instructor. You'll get not just an incredible certification, but a true supporter for all your future SCUBA endeavors.

stephanie_sandiego1


2/02/2018
Meet our Instructors
Our scuba diving instructors at Ranger Rick's Scuba Adventure are dedicated to the motto of "Dive Safety Through Education"; a person whom others look to for leadership and knowledge. NAUI has always been and remains today the most prestigious agency focusing on diving instruction. They share the adventure and help create it! They believe their work should be enjoyable and exciting, and are eager to share their knowledge with others.