Ranger Rick's Scuba Adventure

8422 International Drive Orlando, Florida 32819
We are located inside the YMCA Aquatic Center behind the Metropolitan Hotel off of Jamaican Court. Telephone: (321) 363-2084 Email : Rick@RangerRickScuba.com Get Directions


"Ranger Rick" Lorimor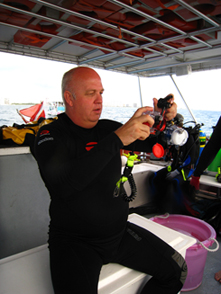 Rick was born a long time ago in a galaxy far, far away. Actually, he comes from Colorado, which just seems like another planet. Rick grew up, believe it or not, on a farm southwest of Denver. He started diving in the U.S. Army in 1976, where he served as an Airborne Ranger and in Special Operations Units for 20 years, and where they had him doing all sorts of strange and unusual things. After retiring from the military, he finally became a legal civilian diver in 2002.
An active full time NAUI instructor, "Ranger Rick" Lorimor became a part of the Florida diving community. As the owner of Ranger Rick's Scuba Adventure, his full time occupation is teaching diving classes. He volunteers as a guide to certain restricted sites and keeps wet and well read, knowing that all learning is an ongoing process. His main instructional goals are safety, conservation and fun. He believes that hands-on is the best teacher, and that learning takes place most efficiently in a gradual progression. He stresses that his students know their limits and stay within them, and that they not lose sight of why they dive in the first place, which is to have fun! For course scheduling, either call or e-mail me.




David Ross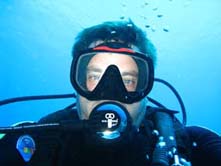 I have had a lifelong affair with water in its many forms. I grew up in the Pacific Northwest with its mountains, rivers, lakes and Puget Sound. I was a sailor for most of my childhood, both competitively and recreationaly. Living on a large lake meant many hours swimming and skin-diving in its murky depths.
Many in my family became divers before me. It always seemed like I would start next year, but for a long time, next year never came. Finally I got tired of waiting and made it happen. In Vancouver Washington I started diving and went from an open water diver to a dive master in less than a year. I dove the cold dark waters of the sound as often as possible. It was in those frigid waters I learned to control my buoyancy and to navigate.
A year ago I moved from my long-time home and landed in central Florida's sunny climes. It was then that I met Ranger Rick and was trained as a NAUI instructor. Since that time, I have had the honor of both working for, and with, Rick. I have continued my personal diving goals and soon hope to be an instructor trainer, a teck qualified diver and some even more ambitious goals.