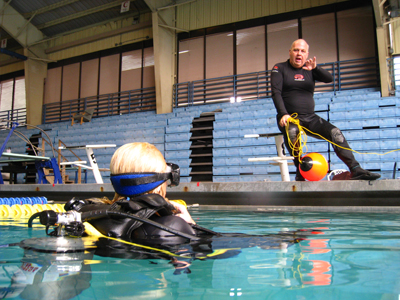 Ranger Rick's Scuba Adventure has been training people just like you to be the best scuba divers in the world!
Diving can lead to adventures in exotic tropical locales and an exciting lifetime profession anywhere in the world. Choosing Ranger Rick's Scuba Adventure and NAUI training means you're only satisfied with the very best. We have the highest training standards in the diving industry and NAUI divers enjoy a worldwide reputation for being accomplished underwater explorers where each breath turns a new page in a journey into the unknown.
Scuba diving is the ultimate role playing activity where you live each moment and venture into places where no one else has been before. Experience weightlessness like an astronaut orbiting the Earth. Breathe underwater while suspended in a cool, refreshing, aquatic world. See strange exotic fishes and shipwrecks of the deep like only other divers do.
Learning to be a NAUI diver is an adventure all in itself! Grab a friend and start at home today with a NAUI educational system from Ranger Rick's Scuba Adventure. Join the millions of others who discovered NAUI scuba diving and changed their lives forever. Want more information? Scroll on and get ready for the adventure of your life and a lifetime of adventure!
Whether you are interested in learning how to dive or a specialty course like Underwater Photography, Hunting & Collecting, Search & Recovery, or expanding your training to include Advanced Rescue Skills or diving with Nitrox, Ranger Rick's Scuba Adventure has a course for you!

Just click on the links below.