The Wetter The Better
Palm Beach has some of the best scuba diving along the Florida coast. The Atlantic Gulf Stream comes in closest to shore off the coast of Palm Beach which is the reason why all of our diving is drift-diving.
The Gulf Stream's rich nutrient-filled waters bring in spectacular amounts of tropical fish and sport fish. Diving adventures often involve encounters with as many as four species of sea turtle (including the rare leatherback), six species of eels and two or three species of shark.
We offer daily two tank dive trips, encompassing reefs, wrecks or deep ledges and there are over 100 dive sites to choose from. We also provide specialty trips such as photography, three tank lobster hunting and night dives.
Regular Charters
Weekday charters depart at 9.00am (Please arrive at least 30 minutes prior to departure)
Weekend charters depart at 7.30am and 1.00pm (Please arrive at least 30 minutes prior to departure)
Cost per 2 tank trip $70 + tax. Tanks not included.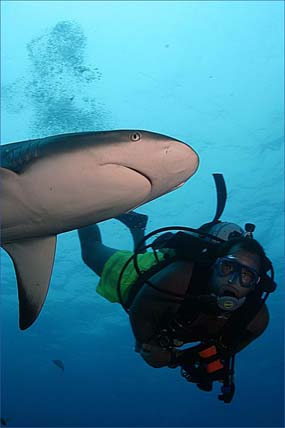 JOIN US ON ONE OF OUR TRIPS
Check our Calendar of Events to see what exciting trips Ranger Rick's Scuba Adventure already has planned. We would love to have you join us.