Ranger Rick's Scuba Adventure will have you scuba diving on the best sites from the best dive boats. Scuba Diving Magazine ranks the diving in this area as better than the Florida Keys in eight out of nine categories.
The Pompano area has more fish, more wrecks, better reefs and better boats than anywhere in the U.S. Our water is warm and clear. Most of the dive sites are within 15 minutes of the inlet.
Drift Diving Off Pompano Beach
This area is the drift diving capitol of Florida. The Gulf Stream comes closest to Florida's shoreline here. It causes an average current of about one knot running parallel to the reef line. This gentle current allows the diver to slowly fly along the reef line without expending much energy. When you finish your dive, simply surface next to your personal float and flag and the boat will pick you up. It's so easy you'll get more time out of your tanks here.
Aqua View
The Aqua View is a custom-built glass bottom catamaran that you can dive, snorkel or watch from above. Being a twin hull design, she is very stable and fast. The gas outboard engines eliminate nauseating diesel fumes. The Aqua View has two tanks racks behind each seat and storage underneath. This vessel is also equipped with side ladders which are easy to use even in the roughest seas. There are five exits, which make it easier to enter the water. Other amenities include a glass bottom viewing window, two freshwater showers, freshwater rinse barrel, clean spacious bathroom, stereo system and a video monitor to view videos or digital images after the dive. Beverages, fresh fruit and cookies are included on all trips. No matter what age or skill level the Aqua View has something to offer.
Regular Charters
Weekday charters depart at 9.00am and 1.30pm (Please arrive at least 30 minutes prior to departure)
Weekend charters depart at 8.00am and 1.00pm (Please arrive at least 30 minutes prior to departure)
Cost per 2 tank trip $55 + tax. Tanks not included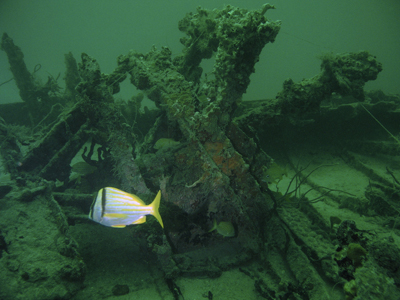 JOIN US ON ONE OF OUR TRIPS
Check our Calendar of Events to see what exciting trips Ranger Rick's Scuba Adventure already has planned. We would love to have you join us.