onaire's pristine reefs and diverse marine life are unique to the Caribbean. Because the waters around Bonaire are designated as an official marine park, diving Bonaire is like diving the Caribbean the way it used to be – untouched and unspoiled. The island's location in the south Caribbean gives it an arid climate with little rainfall; consequently, the waters are exceptionally clear of silt, calm, and diveable year round. It is an ideal destination for underwater photographers. Water temperatures average a warm 78-84°F, with visibility often averaging between 100-150 feet.
The license plates on Bonaire may read "Diver's Paradise" but it would be a mistake to think that great diving and snorkeling are the only activities for which this island is famous. People who visit solely for the Marine Park may be surprised to find themselves caught up in Bonaire's world-renowned windsurfing. Other popular topside activities include: bird watching, sea kayaking, mountain biking, cave snorkeling, sailing or horseback riding.
What's Included:
8 days & 7 nights in a 2-bedroom / 2-bath condo unit with all taxes paid
Airport Transfers
Crew cab truck with AC and all taxes and insurance paid
Breakfast buffet
Unlimited dives (we average 18-22 dives per trip)
Unlimited Nitrox fills
Marine Park Fee $25
Departure Tax $35
What's Not Included:
Airfare (Average cost is $475 to $850 on Delta, American or Insel Airlines. I will help you to arrange flights)
Gas for Truck
Lunch & Supper (Cost is about the same as in the states)
Price: Travel from June/14/2014 to June/21/2014
$950 per diver with 4 divers in a 2br/2ba unit
$1,250 per diver with 2 divers in a studio unit
$1,600 per diver with 1 diver in a studio unit
Normal trips are from Saturday to Saturday. Call to reserve your trip dates.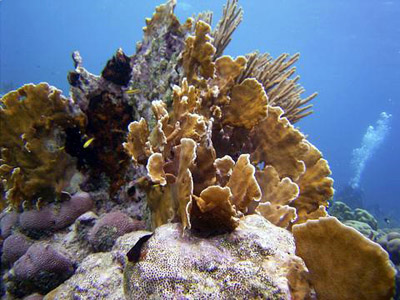 JOIN US ON ONE OF OUR TRIPS
Check our Calendar of Events to see what exciting trips Ranger Rick's Scuba Adventure already has planned. We would love to have you join us.