You are currently browsing the archives for the Scuba Diving category.
Archive for the 'Scuba Diving' Category
May 26, 2009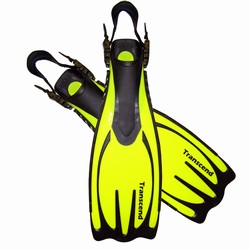 The EDGE TRANSCEND FIN is a sleek, ergonomic design that features a Balanced Variable Flex Blade. The blade adjusts to changing diving conditions without overstressing ankles or legs. The EDGE TRANSCEND FIN features a new low profile quick adjust buckle that is ergonomically designed into the blade, allowing for minimal water drag.
Features
Blade made from a special thermoplastic material with superior flexibility
Innovative blade with differentiated thickness
Foot pocket made from thermoplastic rubber for ease of putting on and taking off
Support rails in two different materials · New low profile, tilting adjustment buckles prevents accidental unbuckling.
Wide footpocket made from black elastomers · Extensive anti-skid zone on the bottom of the footpocket
Protective elastomer edge along the entire front border of the blade
New thermoplastic rubber strap that keeps the foot perfectly in position in the pocket